Being fairly new to midi, I'm hoping someone can provide detailed step by step instructions on how to run Midi Guitar 2 within Cubasis 3. It will be much appreciated.
I'm running iPad Pro, iOS 13.4.1, with Scarlett 2i4
Things tried:
I bought all the MG2 plugins
I set MG2 setting to External Midi Output > Virtual Midi
Run Cubasis 3 (as well as Cubasis 3Le) and have Setup > Audio > Background Audio = On
In the Cubasis 3 midi track Routing Input I choose 'Midi Guitar Out" from The list dialog, but it is not accepted, and reverts back to "No MIDI Input"
Note: Virtual Midi input option does not show in the list in Cubasis 3, but does show as an option in Cubasis 2Le.
With the setting the same in Cubasis 2Le, I can choose "Midi Guitar Out" as well as "Virtual Midi" in the list dialog.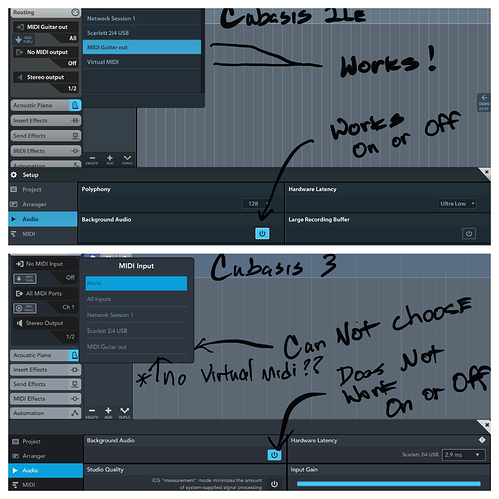 Thanks in advance,
Dave