I would love to love Midi Guitar 2 and purchase a license but can't seem to actually get it 100% working.
My whole purpose of looking at it in the first place was to record midi from my guitar (not to play it on stage or anything) just to translate the guitar notes I was playing into midi.
I'm using Ableton Live 11.2.5 Lite and have followed all the tutorials I can find but, but I always get stuck at the last test - playing back the recorded midi. All I get is silence.
I start with a default setup.
I activate the audio track with my guitar plugged into my AXE IO DI on channel 1. Strum the guitar and I hear it.
I add Midi Guitar 2 to the audio channel, and as the videos indicate I no longer hear the guitar but I still get an input signal.
I set the midi input to the audio track, arm it, and strum and I get midi input.
I record and strum and it records midi data: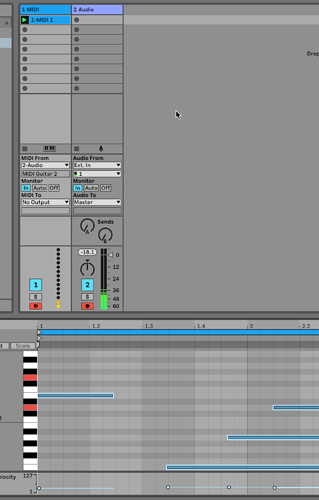 I play the new midi track and I get silence. I assume this is normal because there is no instrument on the track, so I add one.
I get the same thing - no audio. WTF am I doing wrong?
I tried to include more screenshots but the system said I was limited to one as a new user