Cannot get MG2 to recognise my FCB1010 as a midi controller. It is connected via Focusrite Scarlet 6 usb.
Make sure midi out from FCB 1010 is connected to midi in of your interface then in MG2 interface tab you choose your focusrite as your midi in.
Now I have a Mackie onyx 2+2 interface but I'm pretty sure the focusrite should be seen by MG2. It won't show the fcb1010.
I have the same problem with the FCB using Biasfx 2. It makes no difference how many hoops I jump through it just doesnt work. The FCB 1010 seems like the most complex setup bit of equipment I own. So you are not alone and sorry I have no answer. I just went out and bought a different controller out of desperation…
The FCB 1010 is, in my opinion the most versatile piece of kit I own. When I first got it I was totally confused by the vast programming options available but out of the box was able to do patch changes In MG2 and then used midi learn to get volume and synth to guitar blend working in each patch. I use the first 2 banks for MG 2. Since then I found the FCB 1010 programming software available for free online and programmed my next 2 banks to work with amplitube 4 (free lite version online and Traction 7 DAW which came as a freebie with my Mackie onyx 2+2 interface.). Midi is a fascinating bit of tech and I'm just getting started. Please don't give up on too soon.
Regards, Max
I cannot agree more with Max, FCB1010 is the corner stone of my pedalboard and it enables me yo control everything at a time. As far as MG2 is concernered, as I already said on the forum, the best way to control it is through your daw if you do not want to experience latency while changing patches. It is true that FCB1010's manual is not clear, but once you have understood how it works from ytb tutorials, it is quite simple to use and very powerfull for the price.
Hi grahammk1,
Try the simplistic approach, and connect the FCB1010 directly to the USB interface on your Mac or PC. Once connected insure that the FCB 1010 is recognized by your computing device. This is fairly simple on any Mac but, not sure with PC (since this is not my system of choice.
Once recognized, you may proceed with verification of connection with MG2. This would be a sufficient starting point towards actual programming of the FCB towards control / management of MG2.
Let me/us know the results, and I will provide some additional help on this matter.
Take Care,
S8
Well thank you everybody that has responded. The situation is this:
Windows 7 Laptop with Focusrite 6 USB, 2 x keyboard controllers, into Ableton 10.
Everything works except fcb1010 - midi in and out connected correctly to the Focusrite.
The FCB1010 does not appear in the MG2 interface selector, so I have selected the Focusrite as the midi controller, and also midi out.
Switching to midi learn, no changes happen to the highlighted controls.
I am beginning to suspect a driver issue with the Focusrite. I upgraded to windows 10, but it did not recognise the Focusrite driver, and they no longer support this interface, so I reverted to windows 7.
Are you using MG2 as a plugin in Ableton 10 or as the stand alone? I don't think MG2 sees any input controller when used as a plugin, it's function would be mainly as a provider of midi out for another track hosting a synth. If your focusrite is passing on midi via usb it should be visible in the interface tab on the stand alone.
Regards, Max
Also, have you set up the FCB 1010 to send the parameters you want? Out of the box, if I remember correctly it only sends patch changes over midi channel 1. If you're trying to send expression A or B are the red LEDs lit above those pedals. If not they haven't been assigned cc numbers or values yet.
Regards, Max
Sorry, just had another thought. If you're trying to send cc controls to guitar effects in the guitar section of MG 2, you're out of luck until the new windows version update is released. I've been waiting for that for over 2 years. The crew at Jam Origin have been hinting at a big release coming …soon but I'm 70 years old and not getting any younger lol. I guess they've been overloaded lately with all the Apple stuff going on.

Thank you for all your help. I'm going to try to explore fcb1010 programming now. I'll report back.
This is where I am struggling. I don't know what midi I should be sending.
Try this link, it's a link to a video that explains the FCB 1010 editing software, provides links to it and other FCB 1010 instructions.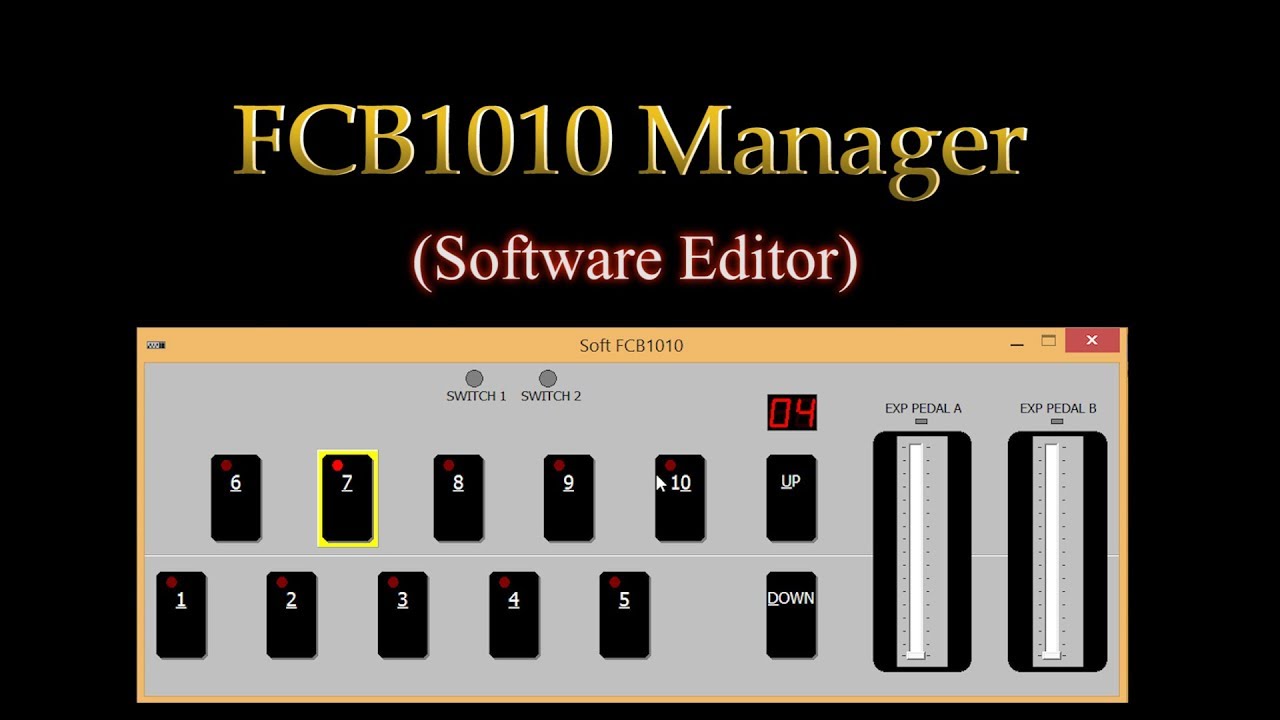 Thank you so much! You are most kind!
Hi,
I just migrated to Windows 10 Pro a month ago or so. I own a Scarlett 6i6 1st generation which works very well on this system.
The driver is here:
https://fael-downloads-prod.focusrite.com/customer/prod/s3fs-public/downloads/Scarlett_Mix_Control_1_10_Usb_4.65.5.exe
And yes, it's completely normal that you'd have to choose the Scarlett MIDI In/Out in any software if your MIDI gear is connected to it.
I own a FCB1010 (UnO 1.0.4 EPROM) and it's working out ouf the box, no drivers needed.
Programming the FCB is not an easy task but the UnO Control Center is well worth the 20 bucks. It works with the standard Behringer EPROM as well:
Hang on, read the manuals or join the FCB group on fcb1010_dot_groups_dot_io (Can't include more than two links).
Many friendly and helpful people there

Best regards,
Thank you. Its the Saffire 6 usb1. 1 I have and its no longer supported. I just can't get MG2 to "see" the fcb1010.
Good luck. I am also in the 70s and by the time I get to understand the innards of the FCB 1010… It probably will be too late