Hi all, I'm about to purchase MIDI Guitar 2 after a few days of trying it, but before I do, I want to address what is to me a pretty huge problem, and request the devs fix it fast.
I own a 3/4 length (short scale) electric guitar that I bought specifically to use with MIDI Guitar 2 because I saw that it recognized up to F# Standard tuning (2 semitones higher than E Standard tuning)—so now I've bought my guitar to use with the program, tuned in F# standard, and I loaded up a professional orchestral flutes VST to test out how well this program will trigger things like flutes and other very high-pitched stuff.
But the program is not recognizing the 21st, 22nd, 23rd, or 24th frets of my guitar's high F# string. Check the MIDI monitor in the screen shot. You'll see it triggering on the 17th, 18th, 19th, and 20th frets of that same string just fine, but as I plucked the next 4, nothing.
I completely understand if you cut the software off from recognizing pitches at certain high and low points, but since your trial shows that it supports "F# Standard Tuning", and someone like me would own a 24-fret guitar (2 octaves) and then try to use the software in that tuning, do you really intend to have 2 or 3 of our frets not working, and if so, why?
I'm thinking maybe it was just some oversight. To be quite frank, considering the point of MIDI guitar 2 for most people is to trigger VSTs, and things like Flutes, Piccolos, Recorders, Glockenspiels, Chimes, Bells, etc. exist, I would imagine the developers of this software would have baked in its ability to trigger much-much higher notes than it currently recognizes.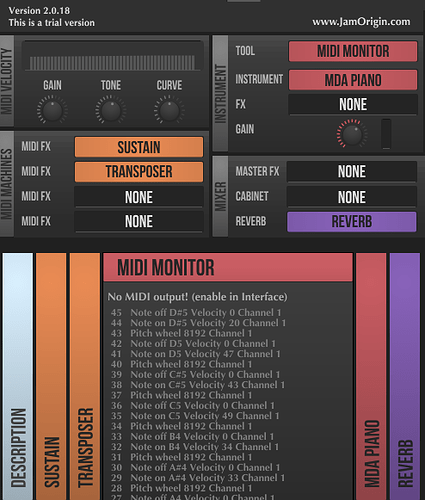 On the low-end, I understand, since that's what Midi Bass is for (and because tracking low frequencies is much messier and harder to control) but those super-high notes that other instruments can hit regularly, should be able to be reached for those with, say, 27-fret guitars or, in my case, short-scale guitars which are in F# standard tuning.
Does anyone know if there will soon be higher notes available in MIDI Guitar 2? I honestly might hold back from buying until then… I haven't yet seen how responsive or proactive these developers are, yet, so… kind of iffy on it.