In the section on Bitwig at MIDI Guitar & MIDI Bass Support – Jam Origin it says that MIDI recording in Bitwig doesn't work yet, and Bitwig haven't replied to Jam Origin yet.
Maybe Bitwig have fixed whatever the problem was or maybe Jam Origin didn't work out how to get it to work, but here's the solution…
[1] First, create an audio channel with just MG2 in it.
[2] Then, have MG2 set up like this so that we are just dealing with MIDI apart from the initial audio from the guitar.
I can only post one embedded media item per post, apparently, so see the next post!
[3] Then, create an instrument channel with your instrument/FX of choice.
[4] Change the Input Routing in the Inspector so that the instrument track is receiving MIDI from the MG2 device in the audio track.
[5] Make sure that both tracks are armed and you should hear the MG2 driving your instruments in track 2.
It should look something like this…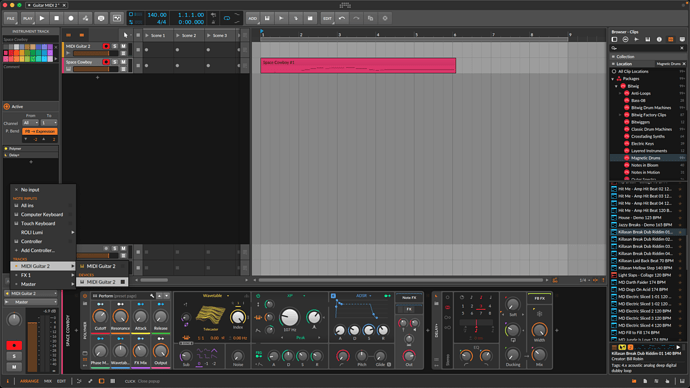 Best of all, is that if you hit record/play, you should get audio recorded in track 1 and MIDI in track 2. The image above shows the result of me doing this, and then deleting the audio in track 1 to prove that it is only track 2 that makes the sounds on playback. I was pleased to note that the string bends were captured!
I think that covers all you need to do. Let me know if you get stuck. Good luck