Please recommend settings for great piano sound.
Thanks
Mark
Hi Mark! Of course we'll try to help you out here. First off, what are you looking for? Is is pop, jazz or classical? And furthermore, is it the MIDI Guitar 2 settings you are looking for, or is it more like the whole setup?
I use a Ravenscroft 275 for most occasions (on Desktop computers that is), and I am pretty happy with the results generally.
Looking for the whole setup and jazz piano.
Just got this so any suggestions are most appreciated
What is ravenscroft 275 is that another preset?
The Ravenscroft 275 is a fantastic VSTi from VI Labs and runs on the free UVI Workstation.
Ravenscroft is a Plugin from VI Labs Ravenscroft 275
and I've found it to be filling most of my checkboxes when looking for a versatile well-sounding piano plugin. You can open it in the standalone MIDI Guitar 2 app or use it in a DAW with MIDI Guitar 2 a plugin, either way is fine. But perhaps you want to check out some free piano plugins first before investing in any purchased instruments? Check out the stuff at https://www.pianobook.co.uk first. And as for settings: This is a place to START. Adjust, adapt and return to this if things get out of hand.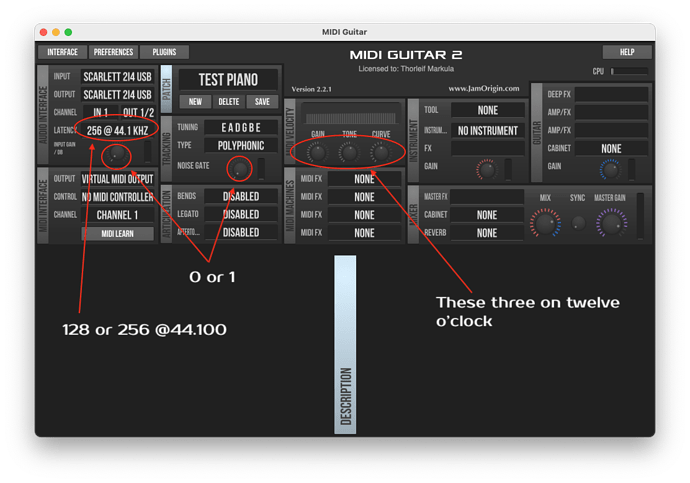 Thanks not ready to spend $199
So in midi guitar 2 I select MDA Piano
It does not track well. I have set up 256 and Omni for MIDI channel.
Also in the software instrument track is that a another sound choice if I set studio strings both I hear strings. Strings work okay but the piano is still glitching any setup to correct that. What do others use?
Thanks again