I can not select an Audio Device with Midi Guitar 2. I have an iphone 6s Plus updated to ios 14.4.
I download Midi Guitar 2 and purchased AudioUnit Hosting and MIDI Outputs. I also purchased SampleTank and downloaded GarageBand.
My wish was to run Sampletank with Midi Guitar 2 to my ToneWood Amp attached to my Acoustic/Electric Maton (EM225C).
I had watched this You Tube Tutorial before I purchased these apps.
https://www.youtube.com/watch?v=BHnnVY5wTZI) It was a simple setup and I thought I would follow his instructions.
It all happen as he said except I could not change the "Audio Device". It would not change from the default "In/Out" setting.
When I tapped the "Audio Device" window, this screen appeared and it would not let me change anything.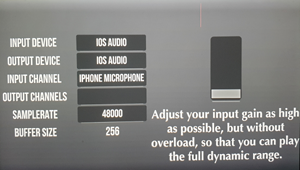 Any help would be much appreciated